Two fire chief finalists vie for DeKalb's top job
Ken Watts | 12/13/2013, 6 a.m.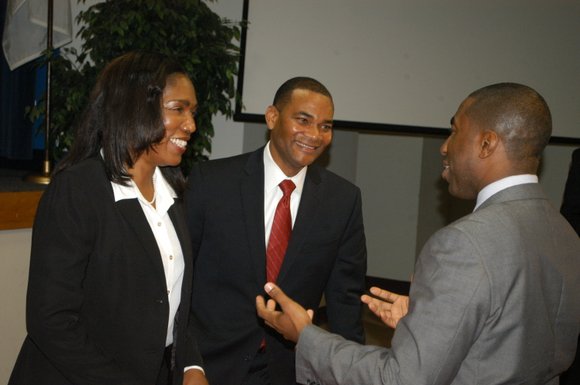 The finalists for DeKalb fire chief took tough questions from the public and came out on the other side still looking good.
Gary, Ind., Fire Chief Teresa Everett and Fulton County Deputy Chief Darnell Fullum faced off at a Dec. 10 forum on departmental promotion policies, diversity, community relations, and emergency medical services.
Both won admirers from the audience of 70, including off-duty firefighters at Maloof Auditorium.
Zepora Roberts of Decatur said the forum was really good and very informative.
"We have some good candidates and I don't think things would go wrong with either one of them," said Roberts, a former District 7 School Board member.
Others felt the forum helped advance the cause of transparency.
Antonio Burden, a DeKalb fire marshal, said it was something new to hear from a fire chief job candidate.
"This is an event that we haven't been exposed to in our department before," he said. "It was in the interest of being open about the process, so I'm encouraged by it."
Forum carried live on cable
The 40-minute program carried live on the county's DCTV cable station and streamed online (www.ustream.tv/channel
/dctv-channel-23) gave the public its first chance to see and evaluate the candidates.
The county has been without a fire chief since Nov. 1 when former Chief Eddie O'Brien retired. Many of the questions dealt with politically hot personnel issues.
Interim CEO Lee May said he will make a decision on who gets the job in January.
Questions from firefighters and the public were emailed to DeKalb and read by moderator Paula Gwynne Grant. Asked if they believe they should be the last outside person to be hired as DeKalb fire chief, Everett said picking a leader from within is possible.
"I'd like to think that if you have the proper resources and promotional opportunities in place, there would be no need to go outside the department," she said.
If she lands the job, Everett would be the first woman, and first African-American, to lead the department.
Fullum said the chief should make succession a priority.
"What I believe is that I could prepare the individuals on the staff who are coming behind me so that when an opportunity arises to select a new chief, the choice can be made from inside," he said.
To a question about the chief's role in educating the public about Fire Rescue and 911 operations, Fullum said residents' first contact should not be when a fire truck pulls up to their house with lights and sirens.
"We'll make effective use of community meetings and our Web site so that they understand exactly what they're getting when they call us and they're not wondering why they're getting a fire truck when they thought they were getting an ambulance," he said.
Everett said she would use DCTV to run monthly features on fire rescue services.
"That would let them know more about what we do on a daily basis. I would have fire station open house events. I really believe the citizens enjoy coming in and interacting with the people who serve their areas. I would also work with the Police Department to provide three-digit phone numbers that people could use for matters that are urgent but not 911-type emergencies."
May said the search will continue to be deliberate, thoughtful and transparent.
"We will ultimately make a decision based on the totality of the facts gleaned from this selection process and not rely solely on past media accounts or opinions from one side or the other," he said in an emailed statement.